Carlsbad Transaction Coordinator Knows About File Backups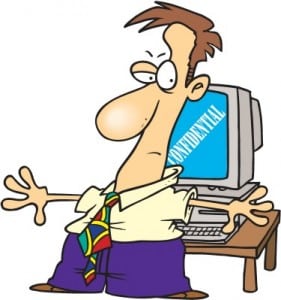 If there is anyone that knows about the importance of keeping good and accurate files, it's a Carlsbad transaction coordinator. A transaction coordinator, especially a transaction coordinator that works in a paperless environment, needs to keep good records and backup files regularly.
I was just listening to a radio advertisement for one of several companies that offers online backups of your entire computer. An online backup is something that happens while your computer is on—in the background, your information is being backed up so that you never have to worry whether you backed up a file or not.
Here are three companies that offer online backup services:
Carbonite® Carbonite® costs about $59 dollars per year. They offer a mobile app so that if you need a file when you are not at your computer, all you need to do is log in with your app and then email, view or save the document.
Crash Plan™ Crash Plan™ has a long list of pretty famous companies that use and endorse their services. Similar to Carbonite®, there fees are $5 per month, and they are endorsed by such companies as Google and Apple.
MozyPro MozyPro has services for all levels of need. From a single individual to a major corporation, MozyPro has a backup product to fit your needs.
One thing that agents, brokers, and transaction coordinators need to ask themselves is whether they can conduct business if their computer is stolen or if their office building burns down. With backup services, a busy agent or transaction coordinator would have no trouble picking up the pieces the very next day.
At Transaction 911, our files are backed up immediately in real time throughout the day to two offsite locations. With the California Bureau of Real Estate requiring that brokers retain files for three years, agents who use the services of the transaction coordinators at Transaction 911 can feel comfortable knowing that a backup of their file is always available to them.
So, the next time you need a transaction coordinator, don't forget to consider the excellent services of the Transaction Coordinators at Transaction 911.