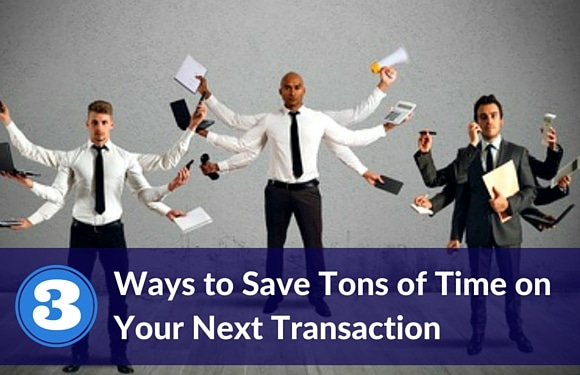 If you are a real estate agent, then you always need to keep up-to-date on the latest policies, procedures, and laws impacting the field of real estate. "All of that important information is what helps you to do your job… an do it well," says a San Diego Transaction Coordinator on the team at Transaction 911. And, there are plenty of ways to get the paperwork done quickly, efficiently, and correctly the very first time.
Paperwork Tips that Save You Time
Here are three hot paperwork tips for California real estate agents that should help you increase the efficiency of your next transaction:
As the listing agent on a property, always have the seller sign and verify all the information that is submitted to the Multiple Listing Service. Protect yourself and have the sellers sign the MLS report before you put the property on 'Active' on the MLS. Make sure that the signed Active MLS is added to your transaction file.
Always obtain a property profile and keep it in your transaction file. Before even going out to meet a seller and take a listing, you should always get a property profile. Carefully check the names on the title (the legal owners) and also the amount owed. You'll want all legal owners to be at the listing appointment, and you will want to make your contract using the correct names (especially if the seller is an entity). Checking this first will save you a world of trouble when you get an offer and open escrow. (Same goes for checking the loan amount. If the loan amount is more than the value, you are headed to a short sale and probably this would be good to know up front prior to listing.)
Use the CC (Receive a Copy) section in Docusign. If you are an electronic signature user, then take advantage of the routing in Docusign and other esignature programs. Instead of having to worry about when a buyer or seller signs in order to deliver something (to your office, to the other agent, to a teammate, to your TC), just add that individual to the bottom of the routing and Docusign will do the work for you. Even if the document is signed in the middle of the night, then it is delivered at that moment—saving you a world of time and increasing your efficiency.
Utilize these great tips from a San Diego transaction coordinator when you work on your next real estate transaction. And, if you know anyone that needs a transaction coordinator for any transaction closing in the state of California, please do not hesitate to call the team of transaction coordinators at Transaction 911.