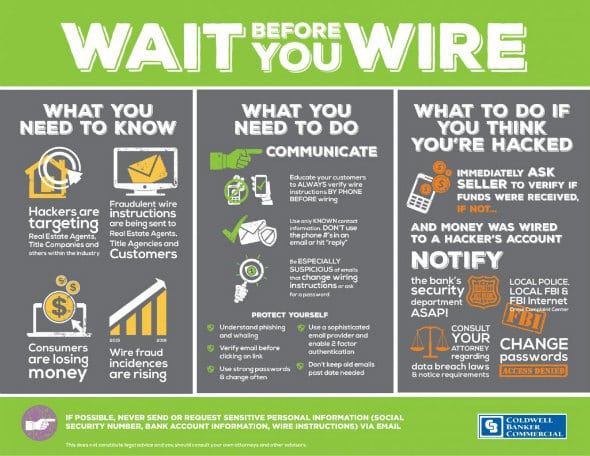 You probably already know that fraud and hacking of all sorts is prevalent right now. And, the world of real estate is no exception. There's an unfortunate trend among home buyers and home sellers right now. It's one where hackers sit back and wait until wiring instructions are sent via email. Those hackers pounce, change the wiring instructions, and then the money gets wired to an off shore bank account instead of an escrow or title company.
What a mess, right? To avoid this, there are some steps that can be taken by home buyers, home sellers, and real estate pros (including title, escrow, and transaction coordinators). The easiest one is to pick up the phone and call the person who sent you the instructions. (But, don't grab the phone number from the email or the email attachment but get it from previous communication or other means.) Then, you can verbally confirm the wiring instructions. (Also, don't forget to use the new Wire Fraud Advisory form in your next transaction.)
Thanks to Coldwell Banker Commercial for putting together this wonderful infographic that explains how you can prevent wire fraud and what you can do if you think you've become a victim.
If you or anyone you know needs help with a real estate transaction, please feel free to reach out to the transaction coordinators at Transaction 911.