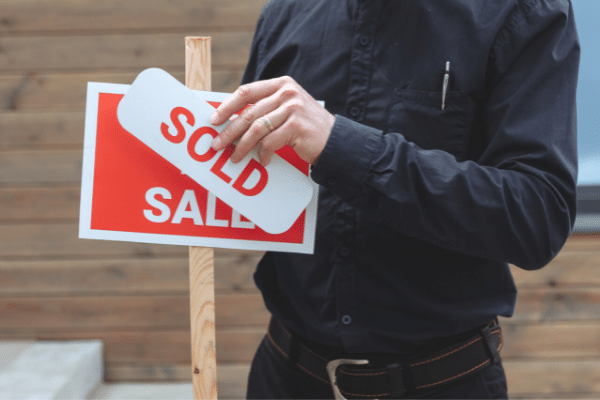 If the data I found online is accurate, 93% of homebuyers shop online for properties. This obvious change from years back means that your real estate listing description matters more than ever before. The goal of a great listing description is to shed the best light on your listing while making you look professional to both your client and potential buyers. Here are eight ways to do just that.
8 Tips for Writing a Listing Description that Sells
Describe the property accurately
Original: needs some TLC but lots of potential

Better: This single-owner home boasts a large lot with mature trees. It's ready for the next owners to bring it into the 21st century.
This may seem like a no-brainer, but your real estate listing description should be accurate. If the house is barely 900 square feet, writing that the space is "sprawling" is dishonest. When you say a home is in "excellent condition" and there is water damage throughout the house and the back deck needs replacement, a potential buyer will be turned off by seeing this on arrival. Setting unrealistic expectations helps no one.
Instead, own up to the home's flaws or shortcomings and turn them into positives or offer suggestions to fix them. If your potential buyers know what to expect, they're more likely to be accepting of the work that needs to be done.
Choose adjectives wisely
Original: This gorgeous and nearly perfect house will stun you with its modern and dazzling interior finishes.

Better: You'll find tasteful updates throughout this recently renovated, stunning home. Schedule a tour today!
Be descriptive, but don't go over the top with your praise. Remember, people can tell when you're trying too hard. For example, we all know "cozy" is code for "small." Your real estate listing description is your chance to get creative and paint a picture of your listing. Adding too many extra adjectives will make the readers assume you're trying to distract them from reality.
Avoid red flag words
According to a study conducted by Zillow, certain words actually are a detriment to your advertising. These words include "fixer," "TLC," and "cosmetic." Unless you're looking to flip a home, these words imply the home requires a lot of work. While these words are not outright negative, they give potential home buyers the impression there is a lot of room to negotiate. 
Include words that add value 
While you may want to avoid the red flag words listed above, there are also words that can help a home listing. "Impeccable," "luxurious," and "landscaped" were found to help boost sales prices. So if there's a steam shower in the master or a $7000 built-in coffee maker in the kitchen, luxurious will definitely apply to your real estate listing description.
Highlight unique features
Character can help sell a home. Is there a fireplace in the master bedroom? Or maybe an original stained glass window in the entryway? At the very least, it will help potential buyers differentiate your listing from the other dozen they are browsing.
Mention a few one-of-a-kind home features in your real estate listing description and the right buyers will appreciate it. It may end up being what makes a potential buyer schedule a showing.
Take notice of punctuation 
Original: tons of natural light – nice park nearby lots of trees in backyard, move in ready

Better: This move-in ready home has been recently updated, including new windows that provide ample natural light. Enjoy the shaded backyard or walk to the neighborhood park down the street.
Every sentence should not end in an exclamation! If everything is amazing, then nothing is! On the other end of the spectrum, be sure that you use punctuation. Long, run-on sentences are hard to follow and information gets lost. 
Write your real estate listing description using complete sentences and appropriate punctuation. Readers will appreciate the effort you took to write a coherent, easy-to-follow summary.
Leave out basic information
The number of beds, baths, stories is visible elsewhere in your online listing. This also applies to your phone number or contact info. That should be available in your email or on your landing page. Save your real estate listing description space for the juicy details that will make potential buyers want to see it for themselves.
Use great photos
This isn't anything you can write, but photos are an incredibly important part of your listing. Consumers are more tech-savvy than ever and expect quality photos. If your images are poorly lit, grainy, or too small to see anything, people will move on to the next listing. This is where professionals often make a difference.
Keep in mind that the way you do one thing is the way you do everything. Every listing description and social post showcases what you do for your clients. So, it is actually an interview for your next listing. Not only can a great listing description sell the home and get you potential buyers and referral business, but it can also showcase your skills and get you your next listing appointment.